This is USA?
I was casually browsing the current National Geographic at Costco today, since their cover story is so enticing to me: "Population-7 Billion"
So the gist is iigh population exploding, what we gon' do.
But ohmyfuggerz - 
WHAT IS THIS???
- enlarged version - 
Seriously, WTF.
My mom's reaction:
Did they patch this together in photoshop? 
No they wouldn't man!!! This is National Geographic!!!
—
So apparently, this is an aerial shot of Henderson, Nevada - a suburb of Las Vegas - by French photographer Yann Arthus-Bertrand, who specializes in these …er stupefying shots from above. 
This is like the Levittown of the 1950s… I really don't think Henderson is the only example of planned communities in the US right now, and that scares me. 
Doesn't it scare you? Goosebumps? Just looking at that uniformity …
My friend mdk's reaction: 
now imagine all the daddies step out of all those houses at the same time…in the morning…carry the same brief case and walk in the same kind of car…and they single file to work
All this just reminds me of sci-fi, and scary things, scary things that happen to humans, like alien abduction. Point is, this image challenges my notion of humanity, which I guess, is mission-accomplished for National Geographic. 
Because, really, what are we doing with all our people??
What are we going to do…
[edit]
Oivey.
Highlands Ranch - suburbs of Denver…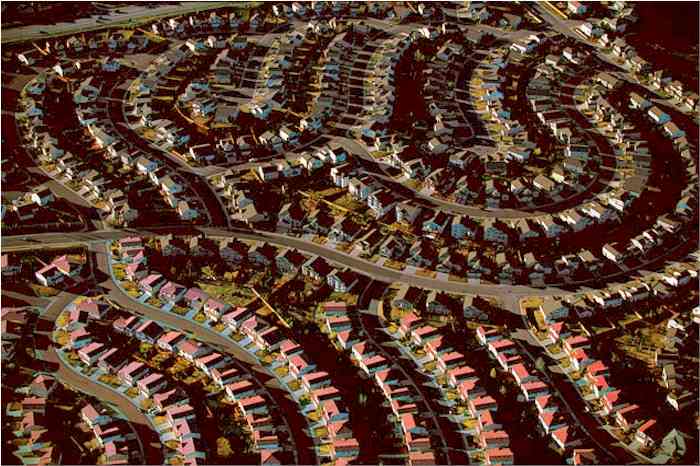 The Venezuelan version…Barrios…
ok…i'm obsessed…
—
(While showering and thinking about this, I remembered that we own a copy of Earth from Above: 365 Days, a collection of aerial shots by Yann Arthus-Bertrand, one for every day of the year. Lucky meeeee! Sounds like a good bedtime story…c:)